English Grammar Mock Test | Online Test
In English grammar mock test | online test, we are going to prepare you all the important questions of English grammar. In English grammar online test, we will include objective questions from all the topics of English grammar which are going to be very important from the point of view of examination. In English grammar online test, we have included the questions asked in all the recruitment of Rajasthan like REET, Patwar, VDO, LDC, Sub Inspector, Rajasthan CET, PTET, BSTC etc.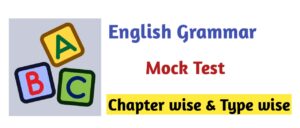 English Grammar Mock Test 
If you are also looking for free English Grammar Mock Test for English grammar, then studygyan24.com is a platform from where you can give free English grammar online mock test and check your preparation. English grammar mock test given by studygyan24.com can prove to be very helpful for you. And can get you to a good destination that too without any charges. Free online English grammar mock test (mcq) in English for competitive exams | 1000+ Quiz Questions.
English Grammar Online Test
Here you get to see a lot of tests on English grammar Online Test every topic, which makes your preparation stronger. Online English grammar Practice and Preparation Test series's always available on studygyan24.in
English grammar topics covered in mock test
In Mock Test of English we have covered Tense, Active and Passive voice, Direct and Indirect Narration, transformation of sentence, article and determiners, prepositions, translation of simple sentence from Hindi to English, subject verb agreement, degree of adjectives, glossary of official technical terms, synonyms, antonyms, idioms and phrases, one word substitution, forming new words by using prefix and suffix, confusable words, comprehension of a given passage, knowledge of writing letters – official, demi official, circulars and notices, tenders etc. has done.